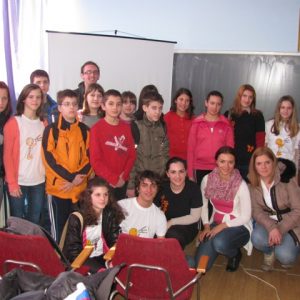 Group "In spe-u nadi", on Monday 25.02.2013., had a meeting with Students council and presentation in ES "Jovan Jovanović – Zmaj" in Srbac and thereby continued last year's cooperation with this school. Meeting was organized with the initiative and invitation from Students council to our group.
With Council members we have talked about the activities initiated by this Council, about the way they have organised themselves, difficulties that they found in their work. Group members shared they knowledge and ways of overcoming work problems with them. Youth from Students council are extremely motivated for work and we only have words of praise for them. They have shown exceptional maturity and sensibility for problems of their peers. Humanitarian actions are predominated, as well as the activities oriented to help youth with special needs. Meeting was inspiring for both sides.
After the meeting, we had a presentation, on which we had about 120 guests. Besides students and teachers from host school, there were numerous guests: journalists from Radio Srbac and Srbac's newspapers, psychologist from Centre for Social work, neuropsychologist and nurse from Centre for mental health from Health institution, market inspector and independent expert for education (representatives of local authorities), police representative from section for juvenile delinquency, Red cross's secretary, Students council and psychologist from MSC "Petar Kočić" , Students council as well as pedagogue and psychologist from ES "Vuk Karadžić"  and parents from Parents council.
Group members presented realized projects in past three years, and after that they have focused on "Initiative in 7 steps" about smoking suppression. Also, we discussed about harmful sides of alcohol and cigarette consummation. We have discussed about the meetings we have held with ministries representatives, national coordinators for smoking and alcohol, and in the end we have discussed about the ways of solving these problems.
In Srbac we had chance to see the example of good cooperation of schools, parents and local authorities. We are happy that our work has been recognized outside the Banja Luka as well, and also because youth has willingness to educate themselves about themes that they are interested in.