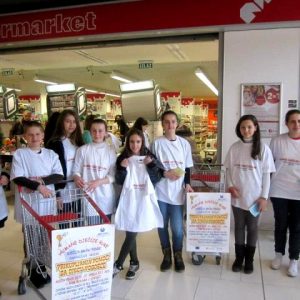 "Human children's hands" is the title of the action of children's group "Fenix" from Vogošća by which we wanted to help socially disadvantaged children and their families from Vogošća.
First action was held in May 2012. We organized selling exhibition on which we exposed student's works made during the sections in schools and which we thought that could be interesting to the visitors. Also, children in their schools and neighborhoods were collecting toys, books, CD's, clothes and footwear and all of that was given to the children that most needed it. Parents of some group members made cakes which were served as a gift to the visitors of the exhibition. Same day, with their citizens help, children were collecting food products in two shopping centers in Vogošća – Mercator and Drvopromet, where they collected six big baskets of groceries. Collected money in the amount of 314 KM and groceries were given to the five socially disadvantaged families chosen by children within their schools with help of social worker and pedagogue.
This year, the action was held from 01 to 08 April 2013. In the activity of collecting aid for the socially disadvantaged children in our community we engaged students of primary schools "Izet Šabić", "Mirsad Prnjavorac", "Zahid Baručija" and "Porodice ef. Ramić". Besides this activity, on April 06th 2013, group organized aid collecting in front of two shopping centers "WOG" and "Drvopromet".
From collected aid we made 48 packages which we gave to the most disadvantaged families in our schools.
Human children's hands
Life is made of little things, and we have to find the way even to the small things. That's why we "small people" are here to make something that can be big. Our firm will lead us to the goal. We wanted to make something interesting and useful. And we did it. In only three words we could find something that our hearts want, feel and our hands are giving. I was waiting for our action with joy, because I knew that every smile from my friends will give me strength for the new beginning.
While I was preparing packages with my friends, I knew that I was doing something good, something that tomorrow I sourly will be proud of and happy that I was part of the story.
Amina Kahriman
CHILDREN WITHOUT DREAMS
They are on a deserted ground,
Their life is being ruined,
There's a mess in their souls.
In every heart crumb of humanity is hidden,
And for the help it's never too late.
Small human hand would give it all,
For their dreams and smile we should fight for.
Merima Kadrić