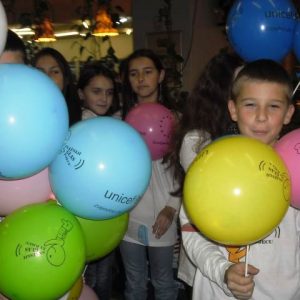 Girl, 14. «Thanks to the workshops I have become more serious and thankful for all I got. I fell mature! »
Boy, 12. «I wanted to participate in something, and since I am not member of any section, I came to the workshop. I am not sorry I had never joined up anywhere, because I liked this workshop very much».
Girl, 14. «For me, Children day means that on that day child has to have its rights, but that doesn't mean that it shouldn't be the same on any other day. People (adults), on that day, need to realize what child rights mean… »
During the period September – December group «Zauvijek prijatelji» realized eight workshops.
In the second cycle of the activities, already given work methodology was observed. Children group is consisted of about 25 members, approximately equal number of boys and girls, with the representation of the different status of children, both national and religious, and social too. Number of  few new members is evidenced in group, but it is mostly unchanged. Students that are not group members are still interested in group membership. Group is consisted of children from VI,VII, and VIII grade.
At previous workshops applied exercises were: Game for better interconnection of children, Wish and necessity cards, What can we do – children participation (exercise of rights and responsibilities), Questionnaire creating, Priority matrix, Action plan creation, etc.
On the realized workshops during the period of September – December 2012, group was engaged in redefining work rules, «old» members met «new» members with activities realized in previous cycle, which followed CRC reminding, research of the needs and creation of the Action plan. Improvement can be seen in children's understanding their needs, but it can be seen that children are also more interested for workshops that imply concrete steps in creation and realization of AP.
Based on the questionnaire created by children, in order to explore the needs of their peers, few problems affecting these young people were marked. Those are:
lack of equipment for conducting physical education classes (sport)
lack of equipment for conducting biology classes
lack of equipment for conducting chemistry classes
lack of equipment for conducting technical  education classes
arranging school yard
locker for books purchase
school uniforms purchase
Before the creation of the Action plan, children had a task to inquire with their sport, chemistry, biology and technical education teachers about teaching tools needed, their price and purchase possibilities.
Besides regular activities, in this period Children week as well as Children day 20.11.2012. were celebrated in SC «Konzum». On this occasion promotional material was distributed to the citizens. Children got praise from school director, as well as from the random passers employed in other schools. Children interest for participation on workshops was intensified after public praise of group members in front of all other classes by school director.
Action plan of group  «Zauvijek  prijatelji»
Problem
Goals
Activities
Responsible person
Expected result
Recourses needed
Funding source
Lack of school equipment
Increasing the quality of teaching by procurement of teaching tools
–  Inquire about the information needed for the assets purchases

– Assets purchase

– Handing of the assets to the school management / teacher

– Group "Zauvijek prijatelji"
–  Supply teaching resources, purchase and raising the quality of teaching
– Finance

– Reliable information

– Human recourses

–  Ensure delivery of funds

– Donors (European Commission and others)